Saturday, October 13, 2007
Liveblog, Act II: the Schadenfraude hour
4:02:
After a lunch break and a fight with the internet feed, there's been buffoonery abound. Lou Holtz compared Nebraska to Enron (
everything's fine here!
) and the Saunders, James, Flutie studio team pontificated Sylvester Croom- yes, the Mississippi State coach- for a seven point lead in the first quarter, proclaiming that while MSU has been "a place for coaches to go to die" Croom has "rebuilt the program there." Add to that, Bama and Ole Miss are playing hot potato with the victory in Oxford, as no one seems to want it at all. A well played first half has turned into a turnover-a-thon.
4:10:
I have regional coverage and can't watch USC dismantle Arizona, so any updates folks can send me are much appreciated. Coach Stoops ought to be on the hot seat by now, so think of some solid replacements for him.
Here's a few ideas for the next head man in Tucson:
Inanimate Carbon Rod

Barney Fife
Dennis Franchione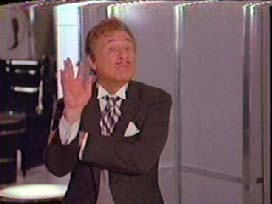 President Skroob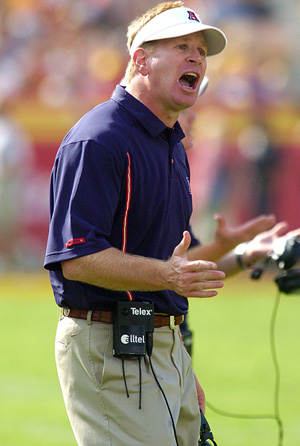 The incumbent
Stoops will be gone one day, and I will miss him.
4:47
Who the hell does Penn State think they are? The team they were predicted to be, it seems, as they are leading #19 Wisconsin 24-7. I guess road rage and sexual assault is how you motivate a team. Paging Fright Night Freedman...
5:10:
For fuck's sake USC, 10-10 at the half? Buck up you bunch of bitches! Someone brought up the idea of rooting against the Trojans considering the end-of-season bowl implications, but ASU holds it's own destiny at this point so don't sell your soul for roses.

5:36:
Kentucky's band is playing
Bohemian Rhapsody
. Sweeeet.
6:30:
Raghib Ismail's sideline interview was... provocative. He proclaimed that at the end of the day the Notre Dame nation would be proud of the product on the field WHAT!!! In addition, when asked what he had been up to since retiring from football, he replied (paraphrasing) "jack shit, y'all. WHAT!!!" He's also a motivational speaker. USC is up again yay!

6:46:
The sideline cheesecake in Happy Valley needs to know one thing: don't poke the old Italian zombie bear. And I quote: "How did I know he wasn't going to answer that? Tee hee!" He committed road rage this week for Chrissakes, insert your own Italian mobster stereotype joke.
6:57:
Schadenfraude successful! Trojans 20, pedophile nunkillers 13. I even got to watch the last Arizona "drive." It was glorious.
7:41
Holy shitballs, Oregon State is up 7-0 at Cal, but we've seen that type of thing before. The 3:30 games werea little sleepybut they sure are ending in a flurry. LSU-Kentucky in OT, UNC giving the Cocks a scare, and U of A actually had a shot. When I die, I'll know I'm in hell if there are no Saturdays in the fall.
7:51:
Some asshat from Missourah just tried to hurdle two Oklahoma defenders. BAD IDEA. Look for it on youtube tomorrow.
7:58:
A delay of game on third and goal from the two in triple OT? that type of thing will give Rich Brooks the gout, but apparently it's all moot now. TD Kentucky, but
Brooks still thinks it's total bullshit
.
8:02:
Yeesh, the sideline cheesecake at the Vandy-Georgia game isn't very cheesy or cakey. She looks like she could be Pam Ward's bulldike sister. Ah, and Kentucky pulls it out. A full set of teeth just rushed the field.
8:07:
Just switched to the Oregon State-Cal game to see the crowd reaction when they announce the LSU loss... and still waiting as VS. goes to commercial. ASU's homecoming matchup with the Bears in two weeks is starting to look verrry sexy.
8:13:
Mmmmm, Hawaiian tailgate at Cal. I should have been a liberal English major.
9:01:
Mark Richt was on the FSU coaching staff for many years, he looks loike a Bowden, and he even walks the sidelines like a Bowden. I think Mrs. Richt has some explaining to do, as Georgia survives a scare from Vandy.
9:10:
Oregon State is looking good on adrive to open the second half. Maybe they won't shit the second half bed again.
9:29:
A goal line stand by the Beavers? Did that just really Happen? I thought no one plays defense in the Pac-10. Cal needs to get their shit together, if for no other reason than keeping Ohio State out of the #1 slot.
10:09:
This is traditionally Auburn's style, but WTF happened to Arkansas' offense? Their gazelle WR Monk was a big loss, but jeez, a team that boasts two of the best running backs in the country ought to be able to put up more than zero points.
...and Oregon State goes up by 10 after converting a fourth and goal, a two-point conversion, and a recovered fumble on the ensuing kickoff. This will be a fight for Cal without Longshore.