Friday, March 23, 2007
I Still Like Ike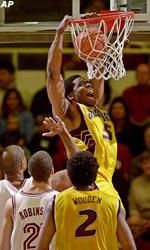 I absolutely adore March Madness. While the first two rounds are tailor-made for ditching out of work to go to a bar, the second two are perfect for at-home viewing. There are only two games going at a time, requiring a bit more focus than you can get at a bar, specifically the option of sound.
Over the years I have watched far more tournament minutes than I have missed, and CBS has been the exclusive carrier of the tourney for most of my life. After a couple decades of intense viewership, one tends to notice repititions in CBS' coverage and the same old schtick gets tiresome. If you aren't going to be at a bar, you might as well get snookered in the friendly confines of your own home. For your personal entertainment, I have devised a NCAA tournament drinking game. The rules are as follows, and you'll note that none of the rules really have anything to do with the actual game of basketball, just CBS' average-at-best coverage of it.
One drink
For every Master's commercial
Whenever CBS mentions how exclusive their coverage is
For every "game reset" or "game summary"
Anytime you hear the word "Cingular"
Whenever Nantz and Packer throw to Greg Gumbel
A close up of a band geek or cheerleader
Any time a bracket is displayed on screen
Two drinks

Two commercial breaks without any game action in between
Two commercial breaks on consecutive dead ball whistles
Anytime Jim Nantz makes a pun using a player/team name
Anytime Billy Packer repeats a point *
this can get you in trouble
Anytime Packer explains a rule
Three drinks

Billy Packer tells a story about a different NCAA tournament
Billy Packer tells a story about when he played
When the incredibly uninformative "tournament summary" is displayed
Anytime Nantz gives Packer a Jim Lampley-style gay smile on camera
Finish!

Anytime anyone says "one shining moment"
Any kind of technical malfunction
It gets a bit old sacrificing a weekend just to watch 16 hours of basketball, especially when it isn't the Sun Devils. Why not induce liver disease?
Labels: anecdotal evidence, ASU alumni, hoops, I'm a big fatass, tailgating
Was the pass strong and accurate?
With my man crush on Sam Keller in full force after Rudy Carpenter opened his big mouth, it's good to see Sam the Man in the news. If you're desperate enough for football content to come to my typo-ridden corner of the blogosphere, you probably already know that
my boy SK was cited for disturbing the peace yesterday in Lincoln
.
Yeah. It's pretty hard to joke about this one since the actual incident is so ridiculous, but the hits keep a comin' from the net.
EDSBS' post
fefatures the video for "Move" by Ludacris, but my fave so far is from Cactus Rancher "Sun Devil 916" with this gem of a zinger (mmm...donuts):
He had won the parking spot first, only to have it given to someone else later. No word yet on if he will be transferring parking lots after the incident.
Someone pointed out how feasible this really is when you look at
ASU's parking prices
for the upcoming academic years, but the kicker of the entire incident is that the magic bullet of a cup
is already on ebay
. Yay Capitalism!
So yeah, it's a short story and there's nothing much else going on...what the hell. How about a pic of proud ASU alum
Victoria Thornton!
Go Devils!
Labels: ASU alumni, I miss college, message board nonsense, regular old crackers, Shut up Carp, we're sorry Sam Keller
Thursday, March 22, 2007
What's a copyright law?
Greatest fark Evahhh!!!!!
It's stolen, and it's even a little blasphemous. I don't care. I'm using it with as much frequency as possible in the spirit of *gasp!* hard hitting, fast, and effective practices!
* A new ASU biased blog has emerged at
sportscactus.com
. Members of the Hell Hogs (a.k.a. "Erickson's Entourage") are running it, including the guy in the white hat in the greatest youtube clip of 2005. Good luck boys.
* The aforementioned man in white, a Red Sox fan named...Jeff? (sorry, little wasted when we met) has taken a heaping pile of heat from the die hards over at Cactus Ranch for announcing his blog with the headline
"Keller Breaks Arm, Out for Season!"
Highlights of the knee-jerk (emphasis on 'jerk') overreactions include "did I mention your an IDIOT***" (note typo) and "total idiot, boycott the blog***" A fine use of asterisks for certain, but most prefer exclamation marks. Hurry up and read it before it's deleted. They do that with comic genius over at The Ranch from time to time.
Labels: anecdotal evidence, blog links, Greatest Fark Evah, message board nonsense, regular old crackers
Carp at it again
Spring practice is here, finally! Unless you have one of those premium subscriptions to those expert-filled star-giving websites, you're as out in the cold as a homeless eskimo. I don't want to pay $80 a year either, so I'll attack the published material as mch as possible. ASU beat writer Jeff Metcalfe, of who I am a fan, sat down with Rudy Carpenter and baited him into making the following stupid remark.
"We had so many guys on the line hurt and no wideouts virtually..... I was second in the Pac-10 in sacks."
Returning Wideouts that saw playing time last year:
Mike Jones, Brandon Smith, Chris McGaha, Nate Kimbrough, Kyle Williams, Rudy Burgess, and Tyrice Thompson
Returning Offensive Linemen that saw playing time last year:
Thomas Altieri, Paul Faniaka, Brandon Rodd, Shawn Lauvao, Robert Gustavis, Mike Pollak, and Julius Orieukwu
Burn bridges much, dick? It doesn't sound like you've ever heard of a fellow Cali-boy douchebag named Chris Rix, who was such a locker room cancer that Pro Bowl WR Anquan Boldin was known to intentionally drop pases from him IN GAMES while playing together at Florida State. Shut your pie hole and throw the ball, son. this was the first actual football article in the
Arizona Republic
in months, so you know everyone in the valley read it. Good job, team leader. Oh and there's planty more:
On differences between this spring and last:
"It's going to be lot different. I think we all know who the quarterback is going to be. If Danny (Sullivan) comes in and beats me out, hey, that's my fault.
Oh yeah, you played lights-out last year after Keller's departure. Pressure is good for the competitive spirit, and you have none coming from the depth chart. Bully for you. Sullivan will never play since
you can't build an offense around a guy that throws the ball like Edward Scissorhands.
We all know that, and I long for the day that Chasen Stengel and Samson Szakacsy can chase your whiny ass up the ranks.
"So many times the whole being 6-5, 230, having a cannon is so overrated."
I have no idea who he's talking about.

This man pwns you, Carp.

This year there's going to be more of an emphasis on football rather than position conflict and controversies."
It certainly doesn't appear so.
Labels: movie references, Shut up Carp, surrounded by morons, the new era, we're sorry Sam Keller
Wednesday, March 14, 2007
Erin Go Bragh, Y'all
I'm off to the Lowcountry for my second annual trek to Savannah's St. Patrick's Day celebration. Since there's so little going right now in the world of ASU athletics, here's a repost of last year's shenanigans. Enjoy, and I'll be back next week.


Monday, March 20, 2006

Savannah St. Patty's day weekend summary
Current mood: ouchy


I feel like I was just hit by a big green truck. There are a number of bruises and cuts on my body right now and not sure how most of them got there. Ahhhh, Savannah. I'll do my best to recall some of the highlights.

There were an estimated 400,000 people at the River Street celebration.

I fell off of a lifeguard tower. For those of you that have never been to that part of the country, the beach sand is extremely compacted because of the shape of the coastline. Yeah, it felt like pavement. I have a great scab on my left elbow now.

Based on the bar scene on nearby Tybee Island, my best guess is that the word "Tybee" is derived from the Gullah term for white trash.

Scotty, extroardinarily inebriated, was standing in front of a gay bar and heard the song "It's Raining Men." In his best "look how cool I am" voice, he turns to me and says "Apparently it's raining men," and turns around and walks into the gay bar. We just let him go, not that there's anything wrong with that. He returned to the street less than sixty seconds later, making sure to tell us we were assholes. I almost wet myself I was laughing so hard.

There was a strip club in Savannah that was advertising a breakfast special known as "Legs and eggs, tits and grits." God bless the South.

There was a house on Tybee Island that, as an eccentric landscaping tool, had a toilet filled with flowers in their front yard. Dan peed in it, and I took a picture of him doing so. It should be up on one of our myspace pages any day now.

Freshley autographed a girl's boob.

Through an unknown set of circumstances the maid never visited our hotel room the entire weekend. The room "looked like it got punched in the dick." Scott, you're quite the poet.

There was a large number of police officers congregated on one part of River Street. Scott walked up to two of them and said "you guys are like f#*king rabbits." Shortly after he said it, he realized that it might have been taken out of context as both officers were African American. You'll be happy to know that Scott is alive and is not incarcerated.

A bagpipe and drum corps played "God Bless America" very late Saturday night as several hundred onlookers sang the lyrics, arm in drunken arm. Of the four of us, I was somehow the only one who found this sight to be absolutely f#*king amazing. I was so blown away I started crying and called my girlfriend. That could have been the booze talking, though.

The four of us spent an estimated total of $2000 this weekend. Keep in mind we got free cab rides, free hotel rooms, and a free breakfast on Friday. A week ago I was really excited that Richmond's St. Patrick's festival is this upcoming wekend, March 25. Now I don't even want to go. I'm so incredibly over green beer. I just want to sleep for about a week.

On one last note, my birthday is coming up on April 27. The tentative plan is to celerate at Chuck E. Cheese's. In case you haven't heard, they serve beer there. Let's all go get wasted and play some whack-a-mole! Until then, the only social activities I'll be attending are AA meetings.



Tuesday, March 13, 2007
Noooooo!!!!
Burgess to miss start of spring ball for ASU
From Staff Reports

Arizona State receiver Rudy Burgess will miss at least the start of spring practice after undergoing arthroscopic surgery on his left ankle. The Sun Devils begin spring drills on Monday. Read the rest of the Trib's story
here.
No offseason news is typically good offseason news but hey, at least he didn't get arrested. After last year's lack of playmaking by the wide receiving corps, RFB will surely be needed. The silver lining is that if there's one guy that could miss a big chunk of spring ball and still pick up the new offense, it's the people's MVP.
Labels: Rudy Fucking Burgess
Monday, March 05, 2007
What do I have in common with Wil Fameni?
a) We're both very tall.
b) We have both won conference championships.
c) We both attended ASU and VCU.
d) Both a and c.
e) None of the above.
The answer is "d," and congrats to my fellow Devil/Ram for helping his team to a conference title and automatic NCAA berth. Bravo Wil, heaps of praise for you. (Oh by the way, you won't believe your eyes upon viewing the Google image search results for "Fameni.")
On an even better note,
ASU out-defended Cal
to pull out a close game for their first road win of the season, a 42-41 victory over the injured Bears. The Terrell Suggs-like defensive effort held Cal to a season low 16 second-half points and completely scoreless in the final 6:51 of the game. The win, however, has no bearing on conference tournament seeding. The Devils are firmly locked in to the ten seed, facing a white-hot Washington team coming off two straight top-25 upsets over USC and #2 UCLA.
If there is a team that has improved more than ASU over the course of the season, it has to be the Huskies. Their young talent (top 5 scorers include 2 frosh, 2 sophs, and 1 junior) has gelled into a true team that is quick in the backcourt and powerful down low, and the latter will most likely lead to Sparky's demise. Then again ASU wasn't supposed to beat Cal, or anyone else for that matter. The slow-down style can throw a wrench into a team's game, plus the Huskies haven't won outside of their own gym all season long. with youth comes inconsistency, as the U-Dub faithful will tell you after
a loss to Oregon State
a week and a half ago. And then of course there's this, from
ASU's official press release
:
FIRST-YEAR RUN: Herb Sendek's first ACC Tournament in Greensboro, N.C., produced one of the best four-day runs in NCAA conference tournament history. NC State entered the 1997 tournament as the eighth seed and 13-13 overall (4-12 in ACC). NC State beat ninth-seeded Georgia Tech 60-46 on March 6, topped No. 1 seeded and seventh-ranked Duke 66-60 on March 7, beat fifth-seeded and No. 22 Maryland 65-58 on March 9 before falling to third-seeded and fifth-ranked North Carolina in the March 10 championship.
I'm not exactly betting the beach house on it, but it certainly would be sweet.
A third shot at the Cats is almost an impossibility
, as it would require both teams to reach the championship game on Saturday. All that is left for the season is to play villian and screw other teams out of tournament hopes. Hooray for the team in the black hat!
Labels: ASU alumni, hoops, other sports, Pac-10 business
Friday, March 02, 2007
Actual Football News!
Thank freaking God. It ain't much, but this is all I have after 2+ hours of net surfing.
*
The April 14th Spring Game
will be held at Sun Devil Stadium
at 7:30 pm
. It's apparently a day game most years, and I guess he's trying- actually I don't really see the point. Hopefully some folks will make it out to Area 59 for some offseason tailgating, and they'll have plenty of time to get good and lubed for a game guaranteed to have no QB sacks.
* In a cyberspace lynching of Gary Barnett (not that he doesn't deserve it),
SMQ makes sure to mention the four parts of ASU history that will never ever die
. It isn't much, but seeing anything about ASU football in March is noteworthy.
* Speaking of which, Hakim Hill isn't going quietly into the night, muh'fucka.
JD's son was arrested yet again in Scottsdale
, even if the charges do sound a little trumped up. Brotha's just trying to get a ride home. If the
Fulmer Cup
gave alumni points, we Gun Devils would give Miami a run for their money.
*
Jake Plummer appears to be retiring
.
*
Jon Hargis
, a defensive line recruit out of high school powerhouse Mesa Mountain View, will be switched to offensive line as Coach Erickson feels that "He has a chance to be a good player."
Eh. I'm reminded of the part in
Raw
where Eddie Murphy makes an analogy regarding how great sex is if your woman holds out on you fr long stretches of time. I'm paraphrasing from memory here, but doing so fairly well if I say so.
If you're starving, and somebody throws you a cracker, you're going to say 'Goddamn, that the best cracker I ever had in my life! (licking fingers) Was that a Ritz?! That had to be a Ritz!'...But then one day you wake up and say, 'hey, I just got some regular old crackers.'
It looks like regular old crackers for quite some time. Help me NCAA tournament, you're my only hope.
Labels: ASU alumni, blog links, movie references, regular old crackers, the new era, thug life