Thursday, April 26, 2007
Regular Old Crackers for your starved football soul
While I am no fan of espn, I try to always give credit where credit is due. Page 2 of their website has a fascinating article outlining
the NFL Draft's first round busts
over the last 15 or so years. It's a fun toy that helps you relive such promising collegiate/disappointing NFL careers like Ryan Leaf, Ki-Jana Carter, and Heath Shuler. Did you know that Shuler is a North Carolina congressman? Stupid basketball state. At least in Oklahoma they elect winners like JC Watts and Steve Largent.
To quench your Sun Devil thirst, here is a link to the "
This Is Sun Devil Football
" section of the 2006 media guide, chock full of photo collages which are always fun for all. For cheap, evil laughs, page 34 of your .pdf has a slew of notable quotes about the departed coach Koetter and what a genius football mind he possesses. You can peruse the rest of the media guide by section at
this link
.
Finally, tomorrow is my 28th birthday so there will be no posting due to me sneaking out of the office for some quality day drinking. If you care to join me this weekend for beverages, draft watching, and tales of how dominant Terrell Suggs was at ASU, drop me a line at houseofheat -at- gmail.com.
These eyes are either lusting after a quarterback or a double whopper. You make the call, but get out of the way. Quick.
Labels: anecdotal evidence, ASU alumni, hatred for the 4-letter network, regular old crackers, the offseason sucks
Friday, April 20, 2007
How do you know when times are tough?
When you hire Rob Evans as a basketball coach.
Ouch
.
The University of Arkansas is obviously too distracted by
Las Chronicas Locas De Boss Hawg
to do any research on their new assistant, for if they did they might reconsider. In the AP write-up, Evans doesn't even have any career achievements listed from his last seven years of coaching, all of which happened to take place at ASU.
Take solace, Fayetteville: teams named "U of A" have fared remarkably well in Evans' presence over the last 8 years.
Evans, seen here taking a dump at Wells Fargo Arena. (as usual)
Labels: hoops, surrounded by morons
Wednesday, April 18, 2007
I haven't got ballplayers, I've got girls
Samantha Micelli and the Slim-Fast spokesman!
Based on the clothes and the non-revealing angle, I thought this photo was taken in the 1980's and felt guilty, like the kind of guilt one has when Dateline NBC comes busting through your door- not that I would know. Upon further review it seems that it was only taken 5 months ago, and then only the jealousy of Tommy Lasorda remained, something I never thought would ever happen. It seems that Alyssa Milano of
Who's The Boss
fame (and some stupid witch show, whatever) writes her own baseball blog. (HT: Scott) Call it gender bias, but I usually expect a female sports blog to be a few short-lived scribblings with phrases like "tee-hee" everywhere, but she's actually quite literate. A few quick things I noticd while perusing
*touch* em all
:
* She's a Dodger fan, so I can only assume that she shows up late for dates and leaves early.
* She offers female baseball fan insight without a single comment about anyone's butt.
* She thinks 2001 World Series hero Luis Gonzalez throws like a girl. Hhhhhooootttttt.
My other expectation of the site was tht it was all a front to push some cleavage-laden Hollywood vehicle, but it's only marketing
the line of baseball apparrel Alyssa designed for women
. Ok, minus one for corporate ties, but it's obvious that she's a true fan and for this welcome her to the blogosphere. Check her out, as long as you're not a SF Giants fan.
Labels: blog links, movie references, other sports
Tuesday, April 17, 2007
Should Tech cancel their spring game?
What we think matters not because they have. The rest of the Hokies' spring practices have been cancelled, including this saturday's orange and maroon game and all other athletic events.
After the events of September 11, 2001, the country needed baseball to ease it's mind and to distract us all from the terror. The boys of summer took a week off, but their return culminated in one of the most exciting World Series in history, where not only the city of New York but the entire country (sans Arizona) rallied around the Yankees' playoff run. Living in Tempe at the time, the Diamondbacks' journey to the World Championship was an island of everything right about our country within an ocean of chaos. Conversely, the NFL cancelled its games on the following Sunday, with their primary fallback excuse being that the league's greatest mistake was playing games two days after the assassination of president Kennedy in 1963.


Would the spring game be too soon? Hokie football is king in Blacksburg, and an intersquad scrimmage- even if it was noncontact- would be a way for the locals to rally around the team and begin the healing process. It's hard for me to criticize from the outside, but I think cheering for a common cause with fellow sufferers would prove to be a bonding experience for so many sufferers. There were more folks than usual here in Richmond sporting Hokie gear today, although I'm not sure if it was their way of mourning or supporting. Either way, something so familiar as a loud and full Lane Stadium could be an emotional and moving ritual for all involved.
To the decision-makers in Blacksburg: I implore you that if the game must remain cancelled, at least reschedule it in the near future. Your students, faculty, alumni, and fan base need it.
A sad, sad week
Things here in Virginia are dismal at best. On top of it being the coldest April in 100 years, yesterday's events in Blacksburg have rocked the entire state. Virginia Tech is the people's school of the Commonwealth and they carry a tight, familial alumni base. Stories are circulating all over town about friend's friends that were involved or affected, and I'm afraid to watch the news any longer for fear of even more bad news. There are candlelight vigils being held at campuses and churches everywhere this week; please send your thoughts and prayers to the families of the victims.
In less publicized news, UA running back
Xavier Smith lost his mother
late last week to multiple gunshots.
All rivalries aside, best wishes to the Smith family.
The Sun Devil family awoke to some frightful news of their own on Sunday morning as CB
Chad Green was in a Scottsdale ICU
after a collision with a drunk driver in Tempe around 3 am. His condition is still listed as critical but guarded, as the doctors won't really know what's going on until the swelling goes down.
Green, #21, puts a lick on Brandon Smith. Photo credit: 4VRADVL.com
A healthy dose of compassion for all is in order. Thoughts and prayers.
In the bittersweet but incredibly uplifting due to other circumstances department, former ASU recruit Angelo Richardson was at the spring game on Saturday. He was on the sidelines, wheelchair bound, during the game and was given a maroon Sun Devil jersey with his name and number on the back. ASU and the Keller family have organized fund raising efforts for A-Rich since a gunshot wound yielded paralysis nearly a year ago. His rehab is going well and he will be attending ASU in the fall with the aspiration of becoming a sports agent. The university has vowed to honor his scholarship so that he may complete his degree, even though he will likely never play football again. He keeps in contact with many current Sun Devil players and Coach Koetter in Jacksonville. Hod has an excellent interview with him at
Devils Digest
.
Photo credit: 4VRADVL.com
Labels: the offseason sucks
Monday, April 16, 2007
Spring games impresses few
This does not look like a satisfied coach.
It sounds like there is still a lot of work to do on both sides of the ball, particularly the offense. This quote from Head Coach Dennis Erickson is probably the most telling:
"We have a long way to go, we really do... we're not even close to where we need to be to be successful in this conference."
Ouch. Headlines from the major papers include "Nothing abuzz in ASU football spring game" and "Offense sluggish in spring game," subtle words that denote an apparent end to the Erickson honeymoon.
While the defense is improved, largely due to emotion and a new found aggressive attitude, the offense looks to have as many if not more issues than it did last year. Rudy has a hitch in his throwing motion that has apparently worsened over time. Receivers still can't run precise routes. Rudy C. locks in to Brandon Smith too often. Zach Miller will sorely be missed as there is little depth behind Brent Miller. Rudy Burgess was notcably less than 100% even though he led all receivers with 73 yards on seven catches, which speaks volumes considering he missed almost all of of the spring practices. Then again, he is the shizznit.
He wins the award for best use of helmet stickers, too.
Five turnovers is way too many, even for a practice. Carp's excuse was that "it's the fact that a lot of guys touched the ball, that don't get to touch the ball on an every down basis. If you don't touch the ball that much you have a chance for more turnovers." That's a horsepoopy excuse if I've ever heard one, and the quarterback making excuses for poor play on the part of others is getting old. How about protecting the rock and not letting others strip it for a change? Yay to the D for going after it, but cardinal rule #1 on offense is to not turn the ball over. Besides, are you telling me that Ryan Torain isn't an every down back? Shut up, stupid. Sam Keller still pwns you and
he displayed it
in his spring debut in Lincoln, oh by the way.

Back to ASU's offense, the most dangerous set ought to be a three-wide with Burgess, Kyle Williams, and Brandon Smith lined up at receiver, with Miller at tight end and Torain in the backfeld. Smith posesses serious deep-ball speed, Williams the ability to make people miss, and Rudy Fucking Burgess can do anything he wants when he's 100%. Torain can pound the ball up the middle as well as anyone in the Pac-10 this year and he's very good on catching the ball in the flat. Sophomore RB Dmitri Nance has been working his way up the depth chart using the same characteristics and many think he has passed Keegan Herring as the #2 back at Arizona State. Some have said that Herring has not improved at all since setting the ASU freshman rushing record three years ago.
The Saia Falahola experiment looks like it will pay off for the Devils, as the high school offensive lineman who was known for his aggressive style and pancake-blocking ability has switched into a mean, lane-clogging defensive tackle. Ryan McFoy's switch to linebacker could still pay off, but he'll need to add some muscle to be able to stuff the run. That may be moot before long, though, since the corner position opposite Justin Tryon is glaringly vacant, especially with the late news that
Chad Green is in a Scottsdale ICU
after a violent early-morning collision with a drunk driver. The way things are shaping up, any team with more than one competent WR on the field at a time will exploit the Sun Devil secondary for muchos yard-os. Many are calling for current high school senior
Omar Bolden
to step up and play when he arrives on campus in the fall.

Kicking is going to be an adventure. Punting has been adequate at best, while long-snaping and placekicking have been nothing short of adventurous. Thomas Weber looks like money when he's 50+ yards out, but anything inside the half-century mark is a severe challenge. To make up for it though, Weber made an extra point on a snap that bounced twice on the way to the placeholder. You never know how valuable a long snapper is until you lose one. What's even more worrisome is that we don't have coach Tom Osbourne to throw under the bus anymore.

Rudy Carpenter needs to live up to his team leader and gym rat reputation by getting the receivers out to the practice field and working with them. One thing that seemed to plague last year's team was that with a glut of average receivers splitting up limited playing time, there was never a good chemistry with the quarterback throughout the season. There is talent at wideout, but it is very raw. Coach Erickson needs to foster some competition at this crucial position to get these guys working out extra hard in the off-season, making it abundantly clear that talent is breathing down their necks in the forms of Mike Jones and Chris McGaha.

So here we are facing a long, hot summer in the desert, where once again the team's greatest weaknesses are at corner, defensive line, and special teams. It's harsh to place such judgement on a team that is learning new schemes and coaches, but there are a lot of things that currently appear to be broken. The passion will undoubtedly be there, but will the execution? Time will tell, I suppose, but spring practices offered little insight on next season. The talent is there to be optomistic, but I can think of plenty of reasons to be guarded about any predictions.

My baseless, unqualified prediction for the 2007 Sun Devils: 8-4 with a loss to U of A, as much as I hate to say it. A slightly improved record based on a favorable schedule, but no real upgrade from ASU v. 20.06. We'll see how things shake up in August at Camp Tontozona and go from there.
Labels: Rudy Fucking Burgess, Shut up Carp, the new era, we're sorry Sam Keller
Friday, April 13, 2007
The most dumbest thing I've read all day
Tuesday, April 10, 2007
Echo from the butte
Hayden Butte, in all it's glory.
"A" Mountain, or Hayden Butte if you're all accurate and shit, is the natural landmark at the North end of ASU's campus.
This article in the AZ Republic
gives a brief history of the rock and the letters that have been emblazoned on its face, which have included "N," "T," and the solid concrete "A" that sits there today.
Reading the article brought back a swath of memories from my undergrad days in Tempe, including my second day on campus. I had read somewhere in the grandiose pile of freshman literature that it was a tradition to whitewash the "A" as a freshman, so I trekked up the face of that large hill in 110+ degree weather and slopped on a coat with the
Student Alumni Association
, which I soon joined. The lure of the organization was that their mission statement included the promotion of traditions, and what better way for an East Coast exile to learn about his new school? It didn't take long to realize that ASU didn't really have many traditions, but that's neither here nor there. My duties mostly included repainting the "A" gold after someone else vandalized it, which worked out to about once a week.
The few traditions in which I participated, including Lantern Walk, were actually pretty cool; the Butte looks surreal when several thousand feet of white Christmas lights are strapped to it's face and fireworks are going off overhead. However ASU's greatest traditions- drinking and girls- were a regular staple in the 85281 during my tenure. The point is this- Take part in tradition you undergrads, even if that means starting new ones. These are the stupid little things that will connect you with your alma mater in the future, whatever it may be. Besides, it's stories like these that keep your kids from bugging you.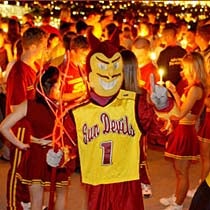 One last thing- we need to come up with a nickname for Sun Devil Linebacker
Morris Wooten
. I'll suck a cock on the Golden Gate Bridge before I endure another two years of an ASU player with the nickname "Cat,"*** so don't even bother with the "9 Lives" routine. Try using an idea along the lines of "Woo-tang," or God forbid something original. Leave comments beow.
***-
No offense to Zach Catanese, who is a total badass.
Labels: anecdotal evidence, ASU alumni, the offseason sucks
Thursday, April 05, 2007
Regular Old Crackers
After a whiny email from a good friend (re: loyal reader) I realized that I should probably mention something about spring practices and how apparently awesome they have been. There has actually been a lot to read during spring practices, so much so that it's been hard finding time to write about it. A quick summary, if you will:
* Practices have been fast-paced, hard hitting, and the players are actually enjoying them. They have been so hard hitting, in fact, that several players have missed practice time due to
concussions and headaches
.
*
Rudy Fucking Burgess
had his first practice yesterday [
Monday, actually -ed
.] after missing the first week of spring ball due to lingering problems with a high-ankle sprain he suffered late last year (stupid defense). Rudy Carpenter
said he looked good
and that he will definitely be an asset because of his wealth of game experience.
RFB, straight pimpin'.
* It looks like the running game will be the best it's been since the days of JR Redmond. Ryan Torain will be just as good as he was last season and should contend for 1st team Pac-10 honors. Keegan Herring has missed some practices due to injury but Dmitri Nance has been doing a great job in his absence. Coach E thinks Nance will see plenty of playing time because of his ability to catch the ball out of the backfield.

* Zach Krula is back on the offensive line after missing the majority of the last two seasons with a broken ankle. He is supposedly knocking people around and should be the best Hell Hog this year.

* Rudy Carpenter played most of last year with broken hands. And here I thought he just sucked.

* Coach Erickson likes the talent of the receivers but sees that they are inexperienced and need coaching. He thinks that Brandon Smith could be as good as current Cincinnati Bengal Chad Johnson was when DE coached him at Oregon State- if he puts the work in. Smith is 6'3" and runs a 4.3 40-yard dash. True sophomore WR Kyle Williams has been burning people in practice, including a 70-yard TD off of a short pass in the first scrimmage.



* Morris Wooten, a JuCo signee from Glendale CC, looks like one of the top linebackers on the team and is being compared to former ASU/GCC badass Dale Robinson, who won Pac-10 co-defensive player of the year two seasons ago. Ryan McFoy is being moved from safety to linebacker. Coach E cited his speed, hard-hitting nature and pass-coverage skills as the reason. He'll need to bulk up, but I think he has the talent to do it. One of the reasons for the move is that Troy Nolan has been knocking people on their asses at practice, and paired with senior Josh Barrett they should be a couple of good safeties. Pat Tillman look-alike Travis Goethel will be the third starting LB. Our defensive weaknesses, as usual, are at one corner and interior D-line.

* We might actually be able to kick this year!

* There is also this warm fuzzy article by espn's Ivan Maisel.
* Also of note, AnswertheScratch.com has renamed itself SUNDEVILGRIDIRON.COM. I think it's required to be spelled in caps, or Frank Kush will hunt me down and barbecue my carcass. It's mostly the same content, but there is a new 'fan story' and the intro video features Erickson and Kush together, salivating at the fact that ASU is going to run the ball and play physically. A novel idea, sure, but you get the sense while watching that Coach Kush really hated Koetter's schemes. That's ok though, most of us did anyway. Now if we could only get rid of those cursed 'Sun Devil Laws.'


Labels: ASU alumni, regular old crackers, Rudy Fucking Burgess, the new era
Spring football news will have to wait

First he steals content, now he's attacking blog sites for no apparent reason. While this is probably exactly what he wants to happen, the news must be spread: Colin Cowherd is a douchebag.

As reported by EDSBS, the aforementioned enema-facilitator today launched a nuclear attack on thebiglead.com, directing listeners to the site- not for witty, original content mind you- but solely for the purpose of crashing their server, knowing full well that most bloggers have extremely low bandwidth due to it's free nature.
Deadspin is also all over this like Mike Stoops on a pitcher of rage-ahol, and they have even gone so far as to challenge Sir Douchie to pull such a stunt on their anti-espn banner waving site with the following statement:
Oh, and go ahead and try that shit with us. We dare you.
Huzzah! This isn't the first time the blogosphere has had to unite against CC, either. Just 53 weeks ago the M Zone was mocking the NFL Draft Combine's Wonderlic test by coming up with some questions for the modern athlete (re: spoiled thug). It's brilliant stuff, really, which can be found here but you probably already heard it on Cowherd's espn radio show since he read eight of Benny & Yost's fake questions on-air without any mention of the actual authors. After responding professionally with several letters to the show, Cowherd sent the following response via email:
WE WERE SENT IT....WE HAD NO IDEA..BUT THE INCESSANT WHINING...MEANS I WON'T GIVE YOU CREDIT NOW..GET OVER IT.

CC
Ass. The M Zone can tell the story much better than I can, so you can read their version of what happened, followed by their one-year anniversary recap. Deadspin has their version of the encounter as well, which is just as juicy and more attacking than defensive. (as it probably ought to be)
Dirk's gone now, so someone has to fill in as the horse's ass.***

It should be noted that Cowherd gave proper credit to the original authors five days later, but a rift has been growing between traditional media members and we underwear-laden, couch-potato amateurs for some time now. Some folks like their sports news straight up and to the point. Some like it overproduced with dorks in suits yelling things like booya! throughout the stories about Notre Dame, USC, and the NBA. The rest of us like our news full of sarcasm, bias, and four letter words. Fuck. Yeah, I said it. We patronize blogs because we can't stand the mainstream media any longer. Mass-media outlet schtick has grown tiresome so we have gone elsewhere, and the big boys resent it. We want coverage of topics in which we are interested; we don't think it's important just because they do, like the Yankees/Red Sox rivalry.
Support your local blog. Ignore Cowherd and all things espn, or else you support terrorism. Ok, that's not entirely true. But mostly true. The only way things will ever really change is if we become more selective as an audience. Watch the games, sure, but ignore their coverage of them. We bloggers are better than they are anyway. Shit.
EDIT: I'd also like to point out that I'm totally not worried about Cowherd attacking this site for it's opinion since 1) only four people read it and 2) Blogger fucks up all the time anyway, so how would it be any sifferent.

***- this very website is the 7th result listed upon a google image search of "horse's ass." I am slowly starting to rock.
Labels: blog links, Dirk's a horse's ass, hatred for the 4-letter network, surrounded by morons