Tuesday, November 27, 2007
May hate week COMMENSE
We're going for
three in a row
, but so much more is at stake. The first ten-win season for the Sun Devils, Keeping the kitties from becoming bowl eligible again, and there is still a mathematical possibility of a Rose Bowl if UCLA plays as manic-depressive as they have all year and can upset USC again.
I'll be arriving in Tempe late Wednesday night so send emails to houseofheat of the gmail variety if you care to buy me a beer, invite me to your tailgate, etc. On Saturday our crew will be in section 38 next to the band, the same place we sat when we witnessed this:
Weather could throw a huge wrench into all of this as
the experts
are forecasting a 40% chance of t-showers on saturday. One has to think this works more to Sparky's favor than it does to the vaunted Air-izona pass happy offense. Squatty guys like Keegan Herring and Dmitri Nance ought to have a field day eluding defenders in soggy conditions.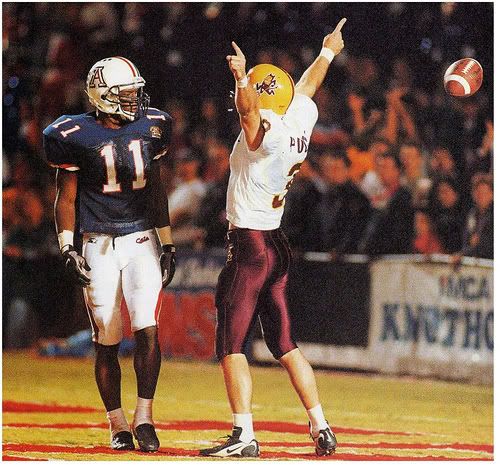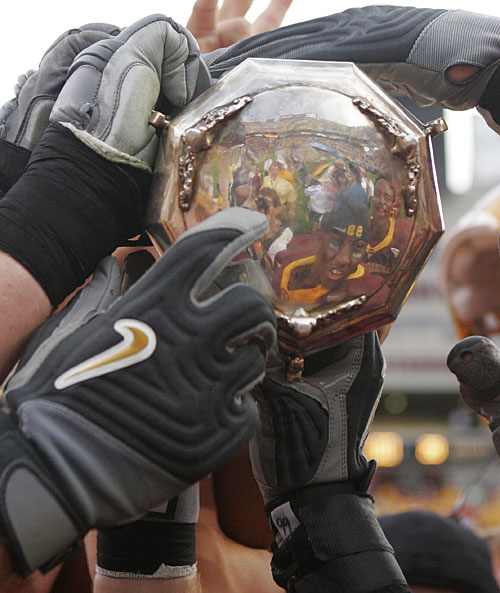 It's concussion time, motherfuckers.
Comments:
Hey Sun Devil, just watched tonight's game. You guys played great and I can't wait for the next post.
Post a Comment
<< Home