Wednesday, October 11, 2006
tHOH Consults Outside Source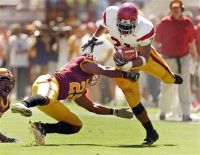 In an effort to get some dialogue going, I contacted the gentlemen at
BoiFromTroy
and we went back and forth regarding this weekend's matchup between the Arizona State Sun Devils and the USC Trojans, something that turned out to be a fun and insightful exchange between two passionate fans. Wait, I didn't mean it like that. Not that there's anything wrong with that! Shit.
1) Why should I watch this game? Does this year's Trojan squad have weaknesses, and if so what do you feel they are? In addition, are they problems that can be exploited, or will Carroll shore up these isues through film study and practice?



Unlike the previous four editions of USC Football, the 2006 Trojans lack the explosive playmaking we're used to. The offense is still good--but it's methodical and sometimes has to settle for a field goal here or there. The Trojans have also failed to keep their advantage in turnover margin in Pac Ten play.



2) The fans of both teams seem to be geting a little restless with this year's drop off in play. Are you buying into the whole "USC's vulnerable" thing, and are you secretly laughing at overconfident ASU fans after our "prolific" passing attack threw for 33 yards against Oregon?





Oddly, I have not been woried by the close calls the last three weeks. I do wonder how USC would do in a shoot-out. USC's secondary is the weakest link of its defese. So if Brian Cushing, Lawrence Jackson and friends cannot get any pressure on Carpenter, it could be a long day.



3) I'm not gay, but I find it fascinating that you have the weekly gay viewer's game watching pick each week on your site. Anyone on ASU's team catch your eye? Just curious.

LOL. If I had to choose, it would probably be Zach Miller.

Yeah, I think he's dreamy too.



4) Is there anything about ASU's team that actually concerns you about Saturday's game, or are most of USC's worries inwardly focused?



That y'all score more points than us!



5) What's the word on the health of the Trojan wide receivers? Anyone else out of the lineup that I need to know about?



Dwayne Jarrett and Steve Smith might be back, but they're not 100%. Patrick Turner stepped up with 12 receptions, just a week after Smith got 11 against Wazzu. Under the radar are freshmen Vidal Hazelton and Travon Patterson, as well as Tight End Fred Davis--but you may notice that QB John David Booty has a bad habit of not checking off his primary receiver, so look for Numbers 8, 2 and 1 to get the ball...in that order...if they're on the field.

Flashbacks=Nightmares

6) A little off topic, but how worried are you about any possible fallout from the Reggie Bush thing? This looks to be the only glimmer of hope for nine of the teams in the Pac-10 for a looong time.



Not so much. If it happens, it happens. But Reggie says there is nothing to worry about and we're just focused on winning games...and this week, that means beating the Sun Devils.
They fired back with a series of questions of their own, and you can read my responses
here.
I hate giving predictions (mostly because I hate being wrong), but I thnk you can get a sense of how I feel about this weekend's game. I thought, going into the season, that the Cal road game would be the tougher of the two, and I'm still sticking to that even though
a losing margin of 28
shouldn't
be too hard to beat. The differences between a close game and a Trojan blowout are penalties and turnovers, so if ASU can right the ship in those two areas I'd feel a little better. The lingering dilemma is that these two catergories were problematic for the Devils all season long, even in the victories (remember those?). I feel a little better about Carpenter taking the snaps after reading
this puff piece by the AZ Republic's Paola Boivin
, though. It's good to get back to your roots, and I don't think anyone would argue against the notion that Rudy has definitely been thinking too much. Here's to better times, and toast now because apparently they don't sell beer at the Coliseum anymore. Egads!
Labels: anecdotal evidence, blog links, QnA
Comments:
oakley sunglasses wholesale
,
cheap oakley sunglasses
,
nike free
,
polo ralph lauren outlet online
,
louboutin pas cher
,
nike roshe
,
uggs on sale
,
kate spade outlet
,
louis vuitton
,
air max
,
oakley sunglasses
,
nike outlet
,
tory burch outlet
,
ugg boots
,
polo outlet
,
nike air max
,
louis vuitton outlet
,
burberry pas cher
,
christian louboutin shoes
,
longchamp outlet
,
tiffany and co
,
chanel handbags
,
nike air max
,
longchamp outlet
,
replica watches
,
jordan pas cher
,
ray ban sunglasses
,
ray ban sunglasses
,
polo ralph lauren
,
oakley sunglasses
,
tiffany jewelry
,
ray ban sunglasses
,
nike free run
,
christian louboutin outlet
,
louis vuitton outlet
,
prada outlet
,
ugg boots
,
prada handbags
,
christian louboutin uk
,
gucci handbags
,
longchamp pas cher
,
michael kors pas cher
,
longchamp outlet
,
louis vuitton outlet
,
oakley sunglasses
,
replica watches
,
christian louboutin
,
jordan shoes
,
sac longchamp pas cher
Post a Comment
<< Home