Sunday, October 21, 2007
Rolling on Shabbas
It's fuzzy but it's fo' real!
ASU is fourth in the BCS
for doing nothing more this week than sippin' on purple drank and scroggin' bitches during their bye week. During undergrad I lived across the street from a few footballers just off of Hardy Drive. On bye week Saturday they went around to all of the houses in the immediate vicinity and let us know that they were having a party and politely asked that we speak to them and not the police regarding any noise complaints. It was one of those ridiculous parties like you see in the movies with extraordinarily hot ladies and gigantic muscle-filled gentlemen stumbling and vomiting on the front lawn. They didn't invite us, oh by the way.
So what did you do for your bye week?
Sometimes you wake up with the urge to do something superbly stupid, like buying a case of everclear and looking up your old fraternity brother who just got moved from an ATF watch list to a work-release program. While I'm not that crazy (because that guy really exists in real life) I did manage to create a similarly self-destructive scenario by teaming up with an Arkansas alum and showing the local Seminoles how to party by arriving on campus at 3 a.m. and throwing a 24 hour tailgate. No hangover today but the legs are sore after standing for nearly 28 hours, including
one of the better football games I've ever witnessed
. Too bad for you it was regionally televised, because it was a doozy. Miami fans are the worst group of people since the fall of the third reich, and they make U of A fans look like the service staff at your local Ritz-Carlton. To top it all off, none of them even went to school there.
Cal's loss at UCLA may hurt ASU's strength of schedule, but the Bears will come rolling in to town on Saturday playing like a wounded animal. ASU will have a target on it's back and he nation's eyes will be on Tempe, seeing if this supposed paper tiger can really play against a good team. The defense will have its' hands full with a recovered Nate Longshore, DeSean Jackson, and Justin Forsett. Saturday would be a good time for this team to come out firing and play all four quarters. We shall see.
And finally, former ASU baseballer Dustin Pedroia had plenty of fun after his Red Sox clinched the ALDS (picture from
loljocks.blogspot.com
).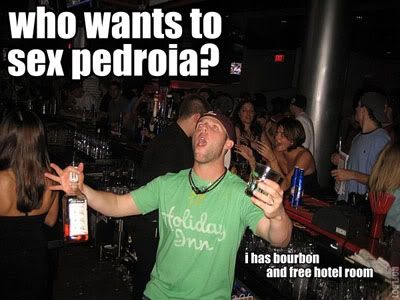 Labels: anecdotal evidence, ASU alumni, I miss college, movie references, surrounded by morons, tailgating
Comments:
Freakina- yes I am, it's a jock strap joke. Tee hee.
Goose- indeed it is, and cocaine makes one's bones brittle. Just sayin'.
Post a Comment
<< Home